Advertisement
http://www.kampoenginggris.com
Kampung Inggris (English Village) is located in the district of Pare, Kediri, East Java. Just like any other districts in Indonesia, Pare is just a small district. But one thing different compared to others is the language courses offered there. With more than 150 language courses institutions that spread over 4 villages in Pare: Tulungrejo, Pelem, Singgahan and Tegalsari, no wonder that Pare is positioned itself as a language village. Most of these language courses institutions mainly offer English courses and English-camps, which integrate teaching English on the classes method and also daily life activities.
English Classes and Activities, http://www.kampoenginggris.com
In English Village, students should start speaking their English from the dawn to the dusk. Students are encouraged to practice their English in these villages, apart from their daily English classes. No surprise, English is everywhere and anytime there, just like when the students order foods from any warungs (food stalls) or bakso (meat balls), or even when they rent bikes.
Mr. Kalend Osen, http://cumakatakata.wordpress.com
History of Kampung Inggris
It started in the village of Pelem in 1976, when a young man named Kalend Osen wanted to learn from Kyai Hajj Ahmad Yazid who was known for his multi-lingual ability. Mr. Kalend then stayed and learned in Pesantren (Islamic boarding school) that belong to KH. Ahmad Yazid.
While Kalend was spending some time learning, there were two university students from IAIN Sunan Ampel, Surabaya who looked for KH. Yazid and requested for English lessons for their exam-preparation. Unfortunately, KH. Yazid was not at home. However, the wife of KH. Yasin then asked Kalend to teach them English.
Even though Kalend had just arrived and studied there, he was not hesitant to teach them English lessons for five days in the mosque's veranda. One month after, those two students came again and told him that they passed their exams. Since then, mouth-to-mouth promotion made Mr. Kalend known as an English teacher. On June 1977, he officially launched an English course, named Basic English Course (BEC). The interesting part, his first six students at those time were not only taught English, but also lessons about Islam and morals teaching.
BEC, http://kampung-inggris.com
Nowadays, there are many English courses institutions established in Pare. They offer general English or specific courses such as Grammar or Conversation or Pronunciation or TOEFL/IELTS preparation class. With the duration of 2 weeks, 1 month, 3 months, 6 months and 1 year, students are given liberty to choose the right courses.
http://kampung-inggris.com
To support the learning process, there are also dormitories or camps for students who come outside Pare. Basically, there are two types of camps: English Camp Area and ordinary camp. The English Camp Area integrates the English lesson in classes and also in the house, where students must speak English inside the house. Moreover, there are also English lessons activities after the morning praying in the dawn and after the evening praying. While the ordinary camp doesn't have English speaking rules.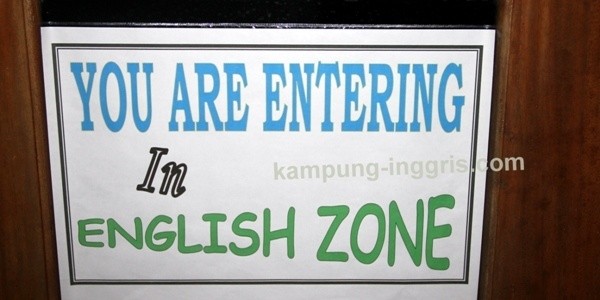 http://kampung-inggris.com
With the tuition fees ranging from 100 thousand to 2.7 million Rupiah for the courses and dormitories fee, ranging from 100 thousand to 500 thousand Rupiah and modest way of life, this English Village has been the choice of thousands of young Indonesians all over Indonesia to study English.
(AY, from various sources)
Feature image: ikomumm.blogspot.com
Advertisement
« Cut Nyak Dien, one of the world's greatest female war commanders TripAdvisor: Indonesia outnumbers United States as the most preferred country for hotel investment »