Advertisement
maps.google.com
Google with the service, Google Street View already enter Indonesia. With Jakarta as the first destination, soon Google will record Indonesia and its beautiful places. Street View is one of Google's services to provide pictures of the real surroundings settings of cities and tourism destinations.
http://akhirnyakutau.blogspot.ch
As quoted from google.com, Google's Street View explores places around the world through 360-degree street-level imagery so that people can explore world landmarks, view natural wonders, navigate a trip, go inside restaurants and small businesses through the internet. This service already captured pictures from 44 countries, and Indonesia is the 45th country destination of Google Street View.
On Friday, 23rd November 2012, Google officially launched Street View service for Indonesia. Google's Senior Product Manager, Andrew McGlinchey and Minister of Tourism and Creative Economy, Mari Elka Pangestu were among the guests attended this launching.
http://www.chip.co.id
This project started first from Jakarta and will continue to other cities in Indonesia. Ms. Pangestu supported the service of Google Street View while stating that the Ministry endorsed 16 tourism destinations in Indonesia to be prioritized, captured by Google.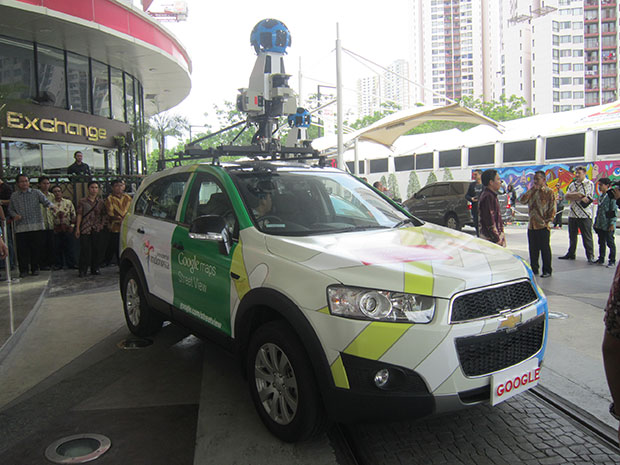 http://tekno.kompas.com
Currently, there are 10 cars that will cover Jakarta's streets. Each car is supported by 15 cameras that can rotate 360 degrees. However, this service will be available on 2013, due to the vast coverage of Jakarta and Indonesia.  This project is at no doubt will elevate and promote Indonesia's tourism in a wider arena.   (AY)
Taken from various sources
Advertisement
« Artmosphere business: From dry leaves and recycling waste into lovely wedding souvenirs Mirror Never Lies (Laut Bercermin) won in Australia »